2 minutes
Haier Europe achieves record turnover and growth in 2022
Haier Smart Home, the number one Company globally in major appliances, has released its financial results for 2022 fiscal year, reporting a growth of 7.2% year-on-year, with sales revenue of RMB 243.5 billion (€ 32.6 billion).
Despite challenges related to high inflation and slowing consumer demand, Haier Smart Home's overseas market continued its double-digit growth, with a 10.3% increase in turnover over 2021.
Haier Europe, which is headquartered in Italy, achieved sales revenue of RMB 23.03 billion in 2022 (€ 3.2 billion) an increase of approximately 20% year-on-year with Haier remaining the #1 brand globally in major appliances, confirming its podium position for the fourteenth consecutive year*.
In 2022, the Haier brand continued to grow in price index and constantly outperformed the industry in market share growth.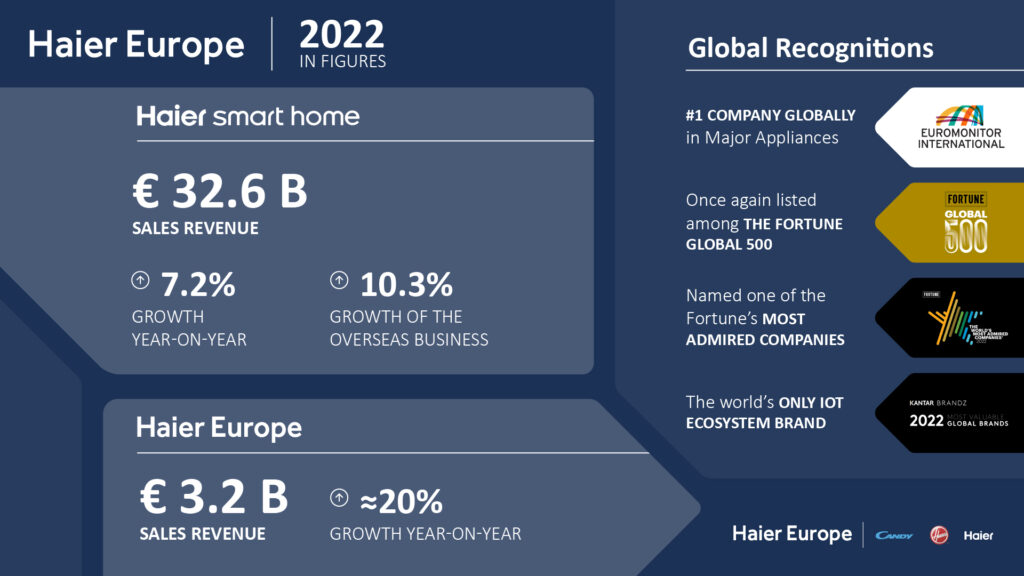 Haier Europe is consolidating its leadership in the field of connectivity and IoTwith a clear winning strategy and growth against the headwinds. The company has strengthened its high-end and ecosystem brand strategy with a focus on sustainability and energy-saving, generating revenue by meeting the needs of all target group consumers with the Candy, Hoover and Haier brands.
The Company accelerated go-to market strategy by leveraging local facilities from dishwasher & kitchen appliance factories in Turkey and refrigerator factory in Romania. In 2022, Haier Europe completed the construction of a new high-automated dishwasher factory in the company's industrial site in Eskişehir, Turkey, further strengthening the Company's product leadership in the washing sectors in both freestanding and built-in segments.
"I'm proud of how we managed to achieve such an outstanding result. Despite all the headwinds, Haier Europe keeps overperforming the market" – said Yannick Fierling, CEO of Haier Europe – "This further inspire us to strengthen our mission to drive the future of IoT ecosystems and connected scenarios and encourages us to deliver our vision to be the first consumer choice for smart home solutions".
Haier Smart Home has been once again listed in the Global 500 and World's Most Admired Companies list by Fortune Magazine and it has also been the world's only IoT ecosystem brand being named again as BrandZ Top 100 Most Valuable Global Brands in 2022.
* According to Euromonitor International